Both editions support for 1-month subscription, quarter subscription and 1-year subscription, you can check the pricing details here.
Learn to Catch cheating Spouse using FoneTracker
Simply select a subscription you need and move on. At last, you can see a control panel on your computer. After successfully subscribed the service, you will get a download link, simply download and setup the PanSpy app on the target phone.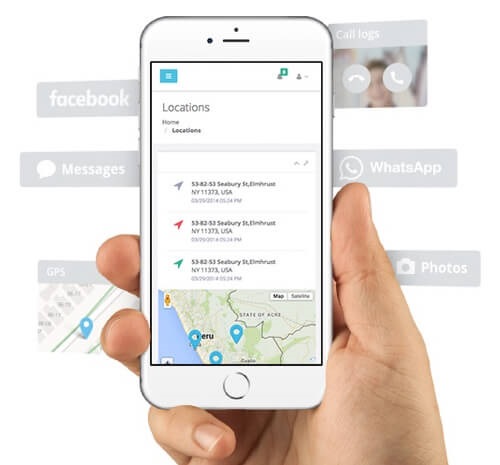 Login in with your PanSpy account and authorize PanSpy to access data on the monitored mobile phone according to the instructions. Then, you can choose to remove the app icon or keep it on the homescreen. After finished the setup process on the cell phone, turn back to the Control Panel on your computer. Now, you get complete access to the target phone and all supported features are listed on the panel so that you can click each category to view the data including calls, messages, emails, apps, photos, browsing histories, Viber, Snapchat, WhatsApp, Line, Facebook, etc.
Simply click Messages on the left side of the dashboard to start spying on spouse's phone text messages. If you have found enough evidence to prove the unfaithfulness of your spouse, the rest can be frustrating.
whatsapp spy apps!
mobile spy free download windows 7 sp2 x32.
9 cell phone signs your husband is cheating on you.
Part 2. How to Catch A Cheating Spouse Texting.
cell spy stealthcom.
Here are 5 Ways to Track My Wife's Phone without Her Knowing?
gps tracking apps;
You may be asking yourself these questions: What happened? Is my marriage over? Can it be saved? Do I even want to save it? However, this is exactly when you need to be really smart, responsible and tactful. Nowadays is very easy to monitor and capture text messages and chats from smartphone like Android and iPhone. Hopefully, you know how to catch a cheating spouse texting and what to do thereafter. Part 1. Top Rated Reasons to Catch Cheater through Text Message Actually, a text message is one of the perfect ways to communicate with others instead of using any kinds of social media application or make a call.
Part 2. The hacking tool, i.
How to Access Your partner's Mobile Without Having Access To The Phone
Cost effective services: Though, remote installation of the hacking tool is costly with some software companies. So, you should have to select the software company that includes free features, affordable subscription plans and a lot more.. Therefore, you should select the software company that keeps information confidential. You just select the reputed company. Master company: It is a major factor that you should analyze before buying the spyware. You should select the company that guarantees to deliver their services. Once you have paid for the need, the company is liable to pay their services.
Among hundreds of spying tools, the FreePhoneSpy is one of the best. You can visit the FreePhoneSpy and analyze its features and services also.
The Best 8 Phone Tracker Apps for Cheater's Phone Tracking
The FreePhoneSpy software is a set of programs, and instructions. Its instructions are used to control some cell phone features and make any change in the cell phone. On the other hand, the programs are used to collects digital files from the memory element, monitor different application installed on the mobile and much more. The FreePhoneSpy software collects data, backups if the internet connection is not available, and then sends to the programmed address. The programmed address is nothing but the parental website of the FreePhoneSpy software.
Here, you can access the website with the particular username and password and collect the hacked data. Now, the cell phone details, chat information, shared files are available in front of you. It is none of the responsible media that completes the hacking process.
Aucun résultat
It is only the medium that helps to transfer the data from cell phone to the dashboard or control panel. The FreePhoneSpy software collects data from the memory element and waits for the internet connection. If your husband turns off the mobile data, then it is difficult to track their cell phone activities. So, keep the thing in mind that your husband has active internet pack or wifi network. Some of the common features are listed here in the content-. If you doubt your husband that he is cheating on you or have an affair with someone else, then you can spy on their cell phone.
mobile number spy software free download?
mobile imei number to track nokia software;
Part 1. Top Rated Reasons to Catch Cheater through Text Message.
spy app for samsung s7.
cell phone spying app annie.
best spy recorder app.

The FreePhoneSpy software collects messages, call details and other records and delivers top the dashboard. Now, you can track their cell phone activities or know whether your husband is cheater or innocent. The spy app works online that means you just have to access the website and the entire data will be on your dashboard within minutes. The FreePhoneSpy software is completely invisible for your husband. Once you hide the application, it is not visible to anyone.

It works silently in the background and does not indicate any notification or alerts. If your husband is internet lover or uses any particular site to communicate with someone, then the browser monitor delivers right benefits. It records particular link, history details etc.

It is another important feature that traps screen lock, pattern lock, app lock, pass-code or other password and informs you. The FreePhoneSpy software includes the app monitoring features. It collects app usage details, app data, traps app folder, and much more. With the help of it, you can identify which application your husband mostly uses. Each hacking tool delivers these features but demands more cost for same features and services.

Using nothing but your smartphone, you can gather all the evidence you need to prove that your partner is cheating or you will figure out if they are just going through a rough phase in their life. Is it legal to track your spouse with a GPS device? There are many discussions and questions surrounding the legitimacy of GPS tracking a spouse. Different judges across the world have made contradictory rulings regarding the issue: tracking a spouse suspected of cheating with a spying tool. While it is a controversial topic, there are certain laws that apply to spying on a spouse with a GPS tracking device.

It is a criminal offence to place a tracking device on a vehicle that you do not own.

But the law is unclear on if a vehicle is owned by both partners. If the vehicle is jointly owned by both parties, one party may legally install a GPS tracker to secretly track the other. A number of courts already ruled on the topic and allowed the evidence gathered from the co-owned vehicle to be admissible. There are mainly two types of GPS tracking devices that can be used to track your spouse: Vehicle trackers and Personal trackers. Each device comes with its unique properties and advantages that can be used to gather information on the cheating spouse.

With a vehicle tracking device and a magnetic case, your options are almost limitless as to where you can hide it.

yoku-nemureru.com/wp-content/map21.php

3 Ways to Catch Your Cheating Spouse - wikiHow

Personal trackers work just as well and they can be placed in a handbag or a suitcase without being detected. Spytrack , a sophisticated GPS tracking software, can help you locate people on a digital map device with the push of a few buttons. From a mobile device or a computer, you can access GPSLive through the smartphone APP or the website to track the exact location of your partner.

GPS trackers with the help of a tracking software allow real-time tracking which can come in handy if you ever decide to confirm your suspicions by confronting your spouse. You will have irrefutable proof that they were not where they said they would be. Spytrack app comes free of charge and features a list of useful functions including geofence zones which allows the user to set-up virtual boundaries around specific locations.

This feature can be used to create a virtual barrier around the place your spouse is supposed to be.